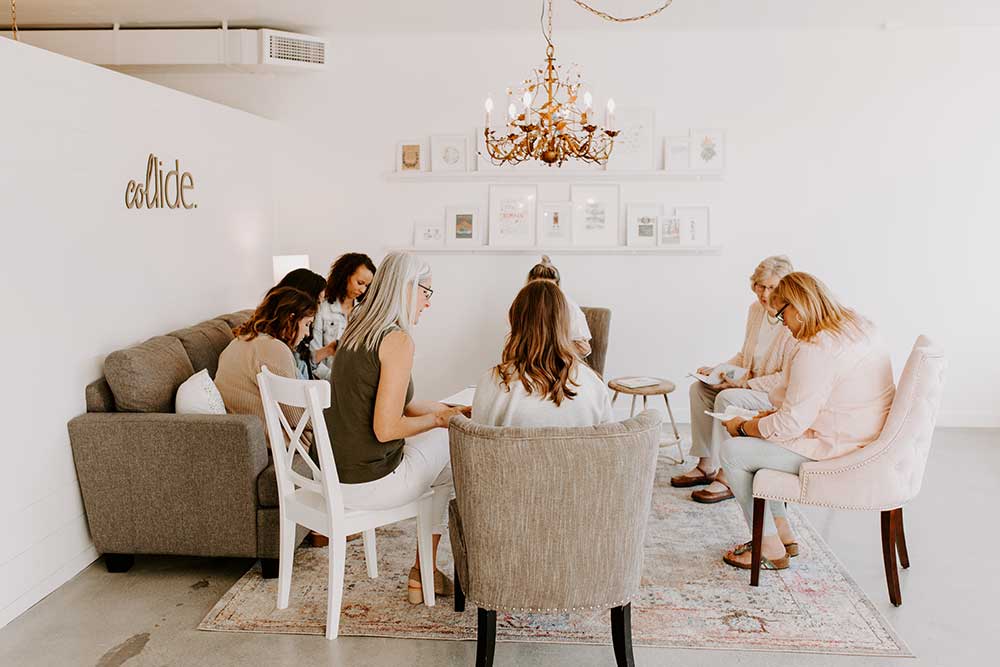 Stuck, Hyperfocused on the wrong things to make your life better?  
Look to the Lord's strength. Look to the Lord and his strength; seek his face always. Psalm 105:4
Don't look to others. Look to the Lord. As the eyes of slaves look to the hand of their master, as the eyes of a female slave look to the hand of her mistress, so our eyes look to the Lord our God, till he shows us his mercy. Psalm 123:2
Look to the Maker. You built a reservoir between the two walls for the water of the Old Pool, but you did not look to the One who made it, or have regard for the One who planned it long ago. Isaiah 22:11
Look not to trusting in your multitude but look to the Holy One. Woe to those who go down to Egypt for help, who rely on horses, who trust in the multitude of their chariots and in the great strength of their horsemen, but do not look to the Holy One of Israel, or seek help from the Lord. Isaiah 31:1
Look up at the sky. It will remind you who has the power. Lift up your eyes and look to the heavens: Who created all these? He who brings out the starry host one by one and calls forth each of them by name. Because of his great power and mighty strength, not one of them is missing. Isaiah 40:26
Put all your hope in God even if you have to wait, even the islands do this. My righteousness draws near speedily, my salvation is on the way, and my arm will bring justice to the nations. The islands will look to me and wait in hope for my arm. Isaiah 51:5
Look to the Lord and you will be radiant and without shame. Those who look to him are radiant; their faces are never covered with shame. Psalm 34:5
Stuck thinking there is nothing you can do?
I can throw off things that hinder me.  Let us throw off everything that hinders and the sin that so easily entangles. And let us run with perseverance the race marked out for us… Hebrews 12:1
I can think on these things. Finally, brothers and sisters, whatever is true, whatever is noble, whatever is right, whatever is pure, whatever is lovely, whatever is admirable—if anything is excellent or praiseworthy—think about such things. Philippians 4:8
I can work on my self control. Like a city whose walls are broken through is a person who lacks self-control. Proverbs 25:28
I can look for the way out when temptation comes. No temptation has overtaken you except what is common to mankind. And God is faithful; he will not let you be tempted beyond what you can bear. But when you are tempted, he will also provide a way out so that you can endure it. 1 Corinthians 10:13
I can make every effort to add to my faith these things. Make every effort to add to your faith goodness; and to goodness, knowledge; and to knowledge, self-control; and to self-control, perseverance; and to perseverance, godliness; and to godliness, mutual affection; and to mutual affection, love. 2 Peter 1:5-7
I can be alert. Be alert and of sober mind. Your enemy the devil prowls around like a roaring lion looking for someone to devour. 1 Peter 5:8
I can fend off the pattern to conform and instead make space to be transformed. Do not conform to the pattern of this world, but be transformed by the renewing of your mind. Then you will be able to test and approve what God's will is—his good, pleasing and perfect will. Romans 12:2
I can be still. He says, "Be still, and know that I am God; I will be exalted among the nations, I will be exalted in the earth." Psalm 46:10
I can make spiritual growth a priority. But grow in the grace and knowledge of our Lord and Savior Jesus Christ. 2 Peter 3:18
I can keep first what needs to be first and when its second I can make it first again.  But seek first his kingdom and his righteousness, and all these things will be given to you as well. Matthew 6:33
I can flee. Flee from sexual immorality. All other sins a person commits are outside the body, but whoever sins sexually, sins against their own body. 1 Corinthians 6:18
I can be in charge of the company I keep. Do not be misled: "Bad company corrupts good character." 1 Corinthians 15:33
I can build others up with my mouth. Do not let any unwholesome talk come out of your mouths, but only what is helpful for building others up according to their needs, that it may benefit those who listen. Ephesians 4:29
I can be walking toward forgiveness.  And forgive us our debts, as we also have forgiven our debtors. Matthew 6:12
Stuck in your past?
Forget what lies behind and strain forward to what lies ahead. Brothers, I do not consider that I have made it my own. But one thing I do: forgetting what lies behind and straining forward to what lies ahead, I press on toward the goal for the prize of the upward call of God in Christ Jesus. Philippians 3:13
Trust God is doing a new thing in me. Remember not the former things, nor consider the things of old. Behold, I am doing a new thing; now it springs forth, do you not perceive it? I will make a way in the wilderness and rivers in the desert. Isaiah 43:19
Remind myself, I am a new creation. Therefore, if anyone is in Christ, he is a new creation. The old has passed away; behold, the new has come. 2 Corinthians 5:17
I can confess my wrong doings and God makes me clean.  If we confess our sins, he is faithful and just to forgive us our sins and to cleanse us from all unrighteousness. 1 John 1:9
Remind myself that I can stop rehashing my past because God has forgotten my mistakes. I, I am he who blots out your transgressions for my own sake, and I will not remember your sins. Isaiah 43:25
Stuck blaming?
God knows who did what so I don't have to tattle tell.  Let God weigh me in honest scales and he will know that I am blameless. Job 31:6
If I have been faithful, I can rest knowing He will be too. To the faithful you show yourself faithful, to the blameless you show yourself blameless. Psalm 18:25
Trust that the Lord will vindicate me. Vindicate me, Lord, for I have led a blameless life; I have trusted in the Lord and have not faltered. Psalm 26:1
Let God deliver me rather than trying to let my blame toward others do that. I lead a blameless life; deliver me and be merciful to me. Psalm 26:11
Want favor and honor? That's God's job to handout. For the Lord God is a sun and shield; the Lord bestows favor and honor; no good thing does he withhold from those whose walk is blameless. Psalm 84:11
Be looking for the log in my own eye before I go blaming another for the speck in theirs. Why do you see the speck that is in your brother's eye, but do not notice the log that is in your own eye? Or how can you say to your brother, 'Let me take the speck out of your eye,' when there is the log in your own eye? You hypocrite, first take the log out of your own eye, and then you will see clearly to take the speck out of your brother's eye. Matthew 7:3-5
I can try to restore rather than blame while keeping watch of my own actions. Brothers, if anyone is caught in any transgression, you who are spiritual should restore him in a spirit of gentleness. Keep watch on yourself, lest you too be tempted. Bear one another's burdens, and so fulfill the law of Christ. For if anyone thinks he is something, when he is nothing, he deceives himself. But let each one test his own work, and then his reason to boast will be in himself alone and not in his neighbor. For each will have to bear his own load. Galatians 6:1-6
When I judge others I condemn myself. Therefore you have no excuse, O man, every one of you who judges. For in passing judgment on another you condemn yourself, because you, the judge, practice the very same things. Romans 2:1
Blaming helped tell the story of the original fall, don't let it tell the story of mine. The man said, "The woman whom you gave to be with me, she gave me fruit of the tree, and I ate." Then the Lord God said to the woman, "What is this that you have done?" The woman said, "The serpent deceived me, and I ate." Genesis 3:12-13
The Lord will weigh the hearts of those who have disappointed me. Every way of a man is right in his own eyes, but the Lord weighs the heart. Proverbs 21:2
What another intends for harm, God can use for good. Trust in what He can do in my life despite others. You intended to harm me, but God intended it forgood to accomplish what is now being done, the saving of many lives. Genesis 50:20
Examine myself only- for that is all I can be responsible for. Each of you must examine your own actions. Galatians 6:4-5
Stuck in Negativity?
Retrain my mind to think on these things, only. Finally, brothers, whatever is true, whatever is honorable, whatever is just, whatever is pure, whatever is lovely, whatever is commendable, if there is any excellence, if there is anything worthy of praise, think about these things. Philippians 4:8
I am invited to walk with the Spirit and when I do, my negativity will be replaced with Spirit minded thoughts which are never negative! If we live by the Spirit, let us also walk by the Spirit. Galatians 5:25
Replace negativity with a thankful statement until it becomes my "always". Giving thanks always and for everything to God the Father in the name of our Lord Jesus Christ. Ephesians 5:20
Remind myself that good is coming. That's a promise. And we know that for those who love God all things work together for good, for those who are called according to his purpose. Romans 8:28
See to it that I don't buy into the world's philosophies that bring me down. See to it that no one takes you captive by philosophy and empty deceit, according to human tradition, according to the elemental spirits of the world, and not according to Christ. Colossians 2:8 
Guard my mouth and my life will be preserved. He who guards his mouth preserves his life, but he who opens wide his lips shall have destruction. Proverbs 13:3
Practice soft answers verses harsh words. A soft answer turns away wrath, but a harsh word stirs up anger. Proverbs 15:1
After warnings, distance myself from divisiveness. As for a person who stirs up division, after warning him once and then twice, have nothing more to do with him. Titus 3:10
Make wholesomeness my goal rather than perverseness. A wholesome tongue is a tree of life, but perverseness in it breaks the spirit. Proverbs 15:4
Practice pleasant words. Pleasant words are like a honeycomb, sweetness to the soul and health to the bones. Proverbs 16:24
Do not repeat the story of another's sin. He who covers a transgression seeks love, but he who repeats a matter separates friends. (Don't be spreading gossip) Proverbs 17:9
When in doubt, keep my lips closed tight. Even a fool is counted wise when he holds his peace; when he shuts his lips, he is considered perceptive. Proverbs 17:28
I need to keep my heart good and then my negativity will have no place to live. For out of the abundance of the heart the mouth speaks. A good man out of the good treasure of his heart brings forth good things, and an evil man out of the evil treasure brings forth evil things. But I say to you that for every idle word men may speak, they will give account of it in the day of judgment. For by your words you will be justified, and by your words you will be condemned. Matthew 12:34-37
Set my own mind on things that belong to another world. If then you were raised with Christ, seek those things which are above, where Christ is, sitting at the right hand of God. Set your mind on things above, not on things on the earth. For you died, and your life is hidden with Christ in God. When Christ who is our life appears, then you also will appear with Him in glory. Therefore put to death your members which are on the earth: fornication, uncleanness, passion, evil desire, and covetousness, which is idolatry. Because of these things the wrath of God is coming upon the sons of disobedience, in which you yourselves once walked when you lived in them. But now you yourselves are to put off all these: anger, wrath, malice, blasphemy, filthy language out of your mouth. Do not lie to one another, since you have put off the old man with his deeds, and have put on the new man who is renewed in knowledge according to the image of Him who created him. Colossians 3:1-10
As I believe, so I will be. So train my mind to believe as I hope to be. For as he thinks within himself, so he is. Proverbs 23:7
Stuck in Comparison?
True satisfaction will only come from me doing my very best. Let everyone be sure to do his very best, for then he will have the personal satisfaction of work done well and won't need to compare himself with someone else. Galatians 6:4
Know that jealousy breeds personal disorder. For where jealousy and selfish ambition exist, there will be disorder and every vile practice. James 3:16
Do away with envy because it will rot my bones. A tranquil heart gives life to the flesh, but envy makes the bones rot. Proverbs 14:30
Fight to not love the things of this world. Do not love the world or the things in the world. If anyone loves the world, the love of the Father is not in him. 1 John 2:15
Stop making people a big deal. Stop regarding man in whose nostrils is breath, for of what account is he? Isaiah 2:22
Know that I will actually feel like I have gained when I am merely content with what I have. Now there is great gain in godliness with contentment, for we brought nothing into the world, and we cannot take anything out of the world. But if we have food and clothing, with these we will be content.1 Timothy 6:6-8
When I feel I lack, remind myself who watches over me. My discontentment could be a direct result of not giving God props for looking out for me. The LORD is my shepherd; I have all that I need. Psalm 23:1
Don't seek to imitate others, but instead, Christ. Be imitators of me, as I am of Christ. 1 Corinthians 11:1
Praise God for who He made me to be rather than looking to others wishing I were them. I praise you, for I am fearfully and wonderfully made. Wonderful are your works; my soul knows it very well. Psalm 139:14
Stuck in Someday?
God wants for me life abundant. The thief comes only to steal and kill and destroy. I came that they may have life and have it abundantly. John 10:10
Know that my days are numbered so putting off the life I desire is not wise. So teach us to number our days that we may get a heart of wisdom. Psalm 90:12
Remember that I cannot brag about what tomorrow may look like. I only have today. Do not boast about tomorrow, for you do not know what a day may bring. Proverbs 27:1
Don't make excuses saying "let me first do…before I follow you Jesus." To another he said, "Follow me." But he said, "Lord, let me first go and bury my father." And Jesus said to him, "Leave the dead to bury their own dead. But as for you, go and proclaim the kingdom of God." Yet another said, "I will follow you, Lord, but let me first say farewell to those at my home." Jesus said to him, "No one who puts his hand to the plow and looks back is fit for the kingdom of God." Luke 9:59-62
I must do the work I have been called to do today. We must work the works of him who sent me while it is day; night is coming, when no one can work. John 9:4
Don't put off what I am called to do because I am looking to external circumstances to be perfect. Trust more than that. He who observes the wind will not sow, and he who regards the clouds will not reap. Ecclesiastes 11:4
Don't give up doing good. And let us not grow weary of doing good, for in due season we will reap, if we do not give up. Galatians 6:9
Bank on the Lord's will more than my own plan. Come now, you who say, "Today or tomorrow we will go into such and such a town and spend a year there and trade and make a profit"— yet you do not know what tomorrow will bring. What is your life? For you are a mist that appears for a little time and then vanishes. Instead you ought to say, "If the Lord wills, we will live and do this or that." James 4:13-15
Make the most of every opportunity, every one. Be very careful, then, how you live – not as unwise but as wise, making the most of every opportunity. Ephesians 5:15-16
Stuck in Impossibilties?
Small faith moves mountains. He replied, "Because you have so little faith. Truly I tell you, if you have faith as small as a mustard seed, you can say to this mountain, 'Move from here to there,' and it will move. Nothing will be impossible for you." Matthew 17:20
Things that are impossible for me are not impossible for God. Jesus looked at them and said, "With man this is impossible, but with God all things are possible." Matthew 19:26
If God can conquer death, what can He not conquer in life? But God raised him from the dead, freeing him from the agony of death, because it was impossible for death to keep its hold on him. Acts 2:24
Believing in what I cannot see pleases God. And without faith it is impossible to please God, because anyone who comes to him must believe that he exists and that he rewards those who earnestly seek him. Hebrews 11:6
Everything is possible for the one who believes. Do I believe that?  "If you can'?" said Jesus. "Everything is possible for one who believes." Mark 9:23 
Stuck Spiritually?
Stay close and remain in Jesus. I am the vine, you are the branches; he who abides in Me and I in him, he bears much fruit, for apart from Me you can do nothing. John 15:5
Long for God's Word. It can grow me. Like newborn babies, long for the pure milk of the word, so that by it you may grow in respect to salvation. 1 Peter 2:2
Live in God's word, sit under wise teaching, be open to correction from spiritually wise people and sing songs of thanks. Let the word of Christ richly dwell within you, with all wisdom teaching and admonishing one another with psalms and hymns and spiritual songs, singing with thankfulness in your hearts to God. Colossians 3:16
Allow others to speak truth in love into my life. But speaking the truth in love, we are to grow up in all aspects into Him who is the head, even Christ. Ephesians 4:15
Determine and do away with the childish things in my life. When I was a child, I used to speak like a child, think like a child, reason like a child; when I became a man, I did away with childish things. 1 Corinthians 13:11
Press on to becoming mature in my faith. Therefore leaving the elementary teaching about the Christ, let us press on to maturity, not laying again a foundation of repentance from dead works and of faith toward God, of instruction about washings and laying on of hands, and the resurrection of the dead and eternal judgment. Hebrews 6:1-2
See my trials as character building, trusting in what God can do with them. Consider it all joy, my brethren, when you encounter various trials, knowing that the testing of your faith produces endurance. And let endurance have its perfect result, so that you may be perfect and complete, lacking in nothing. James 1:2-4
Stuck not Asking for Help?
Bother asking.  Ask and it will be given to you. Luke 11:9
Know that He is my helper so I can ask for help. My help comes from the Lord, Who made heaven and earth. Psalm 121:2
Allow the Lord to be my strength not my weakness. The Lord is my strength and my shield; my heart trusts in him, and I am helped. My heart leaps for joy and I will give thanks to him in song. Psalm 28:7
Draw near to God not with insecurity but with bold confidence. Therefore let us draw near with confidence to the throne of grace, so that we may receive mercy and find grace to help in time of need. Hebrews 4:16
God hears me when I cry for help. Then they cried to the Lord in their trouble, And He brought them out of their distresses. He caused the storm to be still, So that the waves of the sea were hushed. Then they were glad because they were quiet, So He guided them to their desired haven. Psalm 107:28-30
Ask God and He will give me what I thirst for, though it might be a different drink than what I request. Jesus answered and said to her, "If you knew the gift of God, and who it is who says to you, 'Give Me a drink,' you would have asked Him, and He would have given you living water." John 4:10
The Father is the best gift giver. If you then, being evil, know how to give good gifts to your children, how much more will your heavenly Father give the Holy Spirit to those who ask Him? Luke 11:13
Ask for wisdom and I will get it. But if any of you lacks wisdom, let him ask of God, who gives to all generously and without reproach, and it will be given to him. James 1:5
Cast on God all of my worry and panic. Casting all your anxiety on Him, because He cares for you. 1 Peter 5:7
Ask Him to forgive and cleanse me and He will.  If we confess our sins, He is faithful and righteous to forgive us our sins and to cleanse us from all unrighteousness. 1 John 1:9
Ask more for His will than for mine, trusting His best is my best. This is the confidence which we have before Him, that, if we ask anything according to His will, He hears us. And if we know that He hears us in whatever we ask, we know that we have the requests which we have asked from Him. 1 John 5:14-15