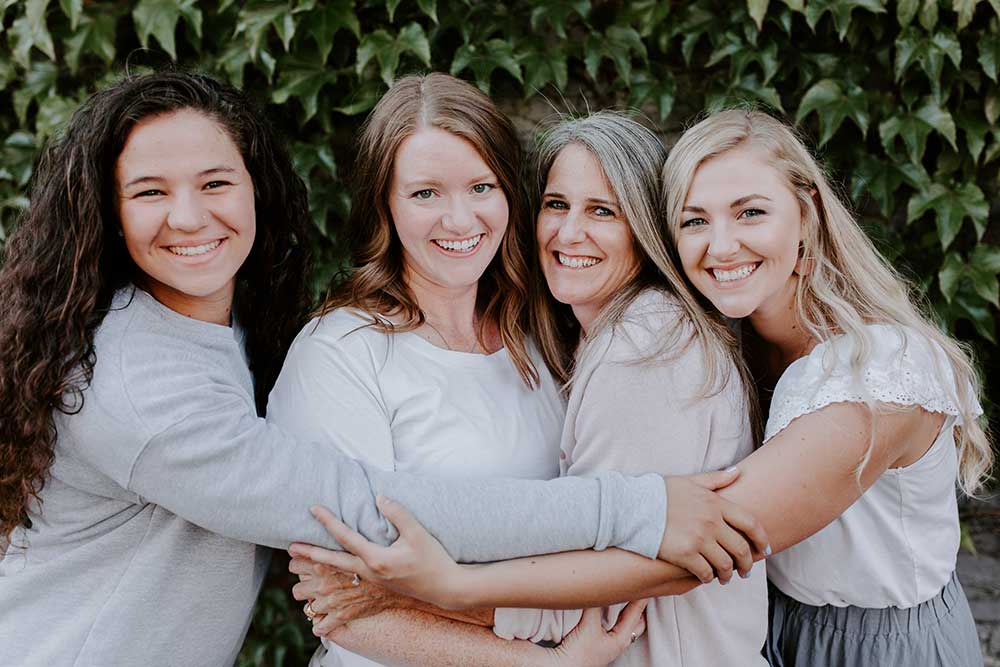 When quarantine hit, the ladies at Collide hit the ground running on creating content to inspire, encourage, challenge, equip, and help you to grow in your relationship with others, and with God. We launched new initiatives, hosted incredible guests on our podcast, and put pen to paper (err, finger to keyboard?) whipping up blog posts, digital downloads, and more.
We're still in the thick of a wild time as a country, and as a planet. But as we take a collective deep breath after the whiplash of the past few months, we are here and ready to serve you with content on the topics most relevant to you as you navigate this season. Whether you're looking to cultivate more gratitude in your life, be inspired to accomplish amazing things, or dive into like-minded community, we've got just what you need.
Here's a little resource roundup of some of our favorite releases of the past few months:
We believe without a shadow of a doubt that walking toward gratitude will find you feeling happier, filled with joy, and more deeply connected to your purpose and your Creator. We shaped a comprehensive guide with twenty daily invitations to walk toward gratitude as you reflect, consider, pause, pray and run into Jesus.
Each of the twenty days is filled with quotes, insights, and thoughtful exercises ready to help you cultivate gratitude in your life. We even dig into what often gets in the way of really embracing a spirit of thankfulness. You'll walk through how to replace complaining, jealousy, pity parties, bitterness, perfectionism, and so much more, with a spirit of thankfulness. Download this baby now and you're already on your way to more joy.
In a time when nothing seems simple, we are craving straightforward direction and answers. Collide Founder + Director, Willow Weston, found solace in one specific verse in scripture.
Micah 6:8 says "He has shown you, O man, what is good. And what does the Lord require of you? To act justly and to love mercy and to walk humbly with your God."
What she noticed is that God boils down all our "shoulds" in life into just 3 things. The Bible says there are 3 things required of us. There aren't 1 trillion. When you feel like you can't keep up with all the demands and expectations of life, find comfort and clarity in this blog post.
We are THRILLED to be sharing this conversation with the one and only Lisa Harper. Lisa is a preacher, writer, theological scholar, and all-around inspiration to women all over the world who are impacted by her authentic, honest, and profound messages. In this conversation, we touch on many aspects of Lisa's bold life, from her story of adopting her daughter, to issues of injustice and racism, to what happiness truly is.
We all have big dreams and big goals, but we often get held back by our own self doubt. We often look around and believe that God will do amazing things in "her" life but not mine. We don't have the right personality, the right giftings, the resources, whatever it may be. Well, friend, God uses what we have. God doesn't need you to be someone else, God can use you just as you are.
We are so sure of it that we created 5 exercises to help you fully say "yes" to God doing the unimaginable in your life. We will walk you through your "not me's," help you confront the fear that holds you back, do a full inventory of what you "have," invite you to reflect on whose life yours can impact and walk you through a study of Scripture where God just might challenge you! All this, in one FREE resource. Grab yours now to start saying yes to amazing things!
The purpose of this group is to support each other as we seek God in our everyday lives. Talk to one another, ask questions, share insights, and spread love. The only thing missing from this free, supportive, and encouraging group is YOU.
For more digital downloads, blog posts, podcast episodes, videos, and more, head to our Let's Collide page and search for content by category. There you'll find helpful, practical, and beautiful resources regarding the topics you bump up against every day – from motherhood, to purpose, to grief, to spiritual hang ups, to relationships. Our prayer is that you collide with Jesus in every area of your life.
XO,
Collide