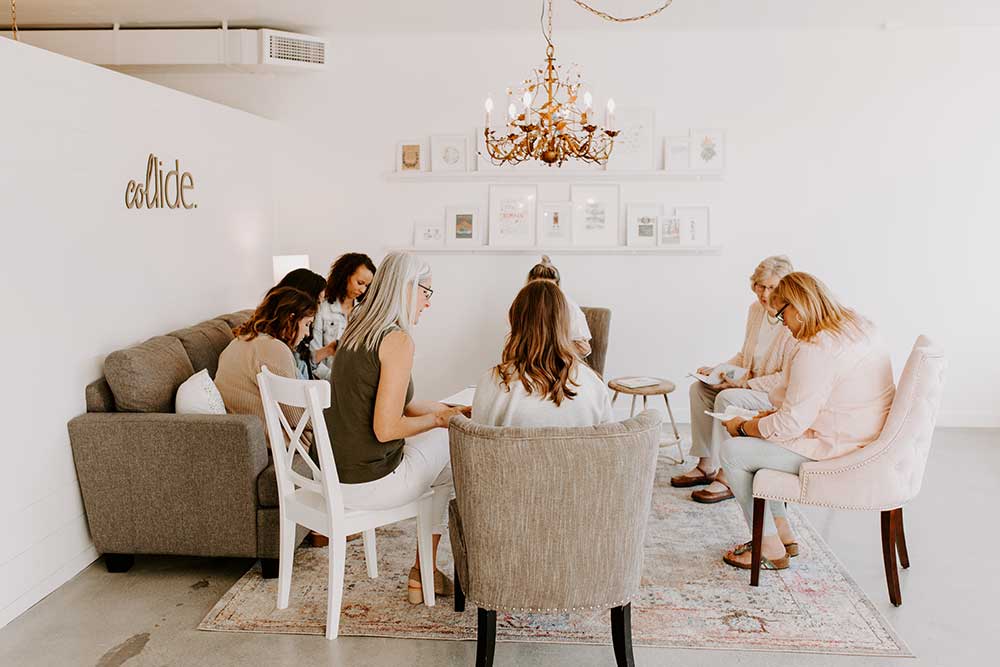 I met Melissa this year on the playground at my kids' school. She walked up to me and said she had heard about Collide and wanted to come. She was sweet and kind and we chatted and then she showed up at a Collide! I was thrilled to see her and as the months have gone by it has been a blessing to get to know her and pray and encourage her as she has faced some hard life stuff. I love that she so rawly shared her "real" self here and that she taught us along the way. I will never see measuring sticks the same, but even more, I will never measure myself the same. Thank you Melissa! – Willow
It seems ironic that one of the first Bible verses that I memorized as a little girl was Proverbs 3:5-6, "Trust in the Lord with all your heart and lean not on your own understanding; in all your ways acknowledge him and he will direct your paths." I realize now that knowing this verse by heart is not the same as knowing the heart of this verse. They say there are two sides to every story, two perspectives from which to gain understanding. For me, leaning on my own understanding, my own perspective, has lent itself to years of being stuck in depression, anxiety, self loathing, paralyzing fear, and a desperate search for evidence that I had any worth at all.
No matter how much scripture I have read, praise music I've listened to, friends that have encouraged me, prayer I received, or anti depressants I swallowed, I couldn't shake my horrible self image. While these things made me feel better for a time, I was so deeply rooted in what I understood about me, that I went quickly and comfortably back to my default setting with whatever road block I came up against next. I was only 12 when I remember having concluded that whatever it took to be acceptable and lovable-wasn't in me. And despite having a wonderful husband these past 12 years, I still believed that until very recently. I didn't doubt his love for me all this time, I just thought he was a miracle straight from God, somehow blessed with eyes to see me differently than I truly was and the patience to love me in spite of myself. Actually, I still think that. 😉
The past couple of years God's been challenging me to outgrow the toxic thinking that I have clutched onto since childhood. Each time I tried to break free something seemed to keep me tethered, bound in darkness. Then this past fall I happened upon information about Collide. I was crazy nervous, but attended anyway. The things I heard resonated with me. But I still believed that the freedom the speakers seemed to have wasn't for me. One of my dearest friends has often told me, "You aren't very kind to yourself." It was true, but I felt like I was being honest with myself and couldn't pretend otherwise.
Recently, while sharing that I realized that I just need to accept that I might never finish a college degree, another friend asked when "uneducated housewife" would stop being my story, because she  said she doesn't see me like that at all. Within days of that conversation I sat in church and hung on every word as my pastor said "It's time to take off the grave clothes." and challenged the body of Christ to "embrace an abounding life." (He directed us to John 1:12 and John 6:28-29.) I pressed into these truths, and slowly began to consider a different perspective, to understand in a way I never had before, that who I am is found in Christ alone. I wrestled with this new perspective. I longed to trust it with my whole heart, from the depths of me, not just to recite it.
In the midst of this season of undeniable pursuit, God showed me a picture of myself surrounded by measuring sticks. They were a little like yard sticks, but similar in size to 2x6s, each one looming over me. I had to pray and journal a lot about these measuring sticks. Were these the standards of the world that I just couldn't measure up to and shouldn't even try?
This was my initial thought. Slowly and surely God started revealing to me that these sticks were mine, that I'd been collecting them my whole life. Collecting them and lugging them around. Everywhere I went these measuring sticks came with me. Each one seemed to represent a time of hurt or disappointment in my life, and my understanding of what that experience said about me. I longed for them to tell me that I was ok, that I was enough. They were not so kind. They told me that I'm worthless and disposable, as evidenced by my parents' divorce and the lack of weekend visits with my dad, as well as when I was 18 and my "no" was mistaken for a "yes" and a boy I had just met took something that I'd intended for only one.
They told me I would never measure up, never be the woman God intended me to be, that no matter how hard I tried I would always be uneducated, undisciplined, misunderstood, ill-equipped, too sensitive, too irritable, too afraid. All I could ever see was evidence in my life to support this understanding. It became clear to me that not only did I lean on my own understanding, I sat in it, wallowed in it, wore my understanding like a tattered crown.
Now though, after hours and weeks of prayer, I have had the breakthrough I have desired for over a decade. Now, when my own understanding tries to remind me of my ugly past, of yesterday's evidence that I failed to measure up, I see a different picture of myself. Now I'm standing on a heaping pile of broken, busted measuring sticks. Now I am telling a new story. Now I carry just one single measuring stick. This one has me standing taller, breathing deeper, trusting with all my heart. This new measuring stick tells me that I am justified and redeemed, set free, accepted, a work in progress, an overcomer. – Melissa Jacobs
P.S.  A key part of Melissa's healing came from reading Daring Greatly: How the Courage to Be Vulnerable Transforms the Way We Live, Love, Parent, and Lead
 .* She said this book shed so much light on the patterns in her life and wants anyone who struggles with a story like hers to know that it's a great resource. 

*This is an Amazon affiliate link. These affiliate links help support this site.