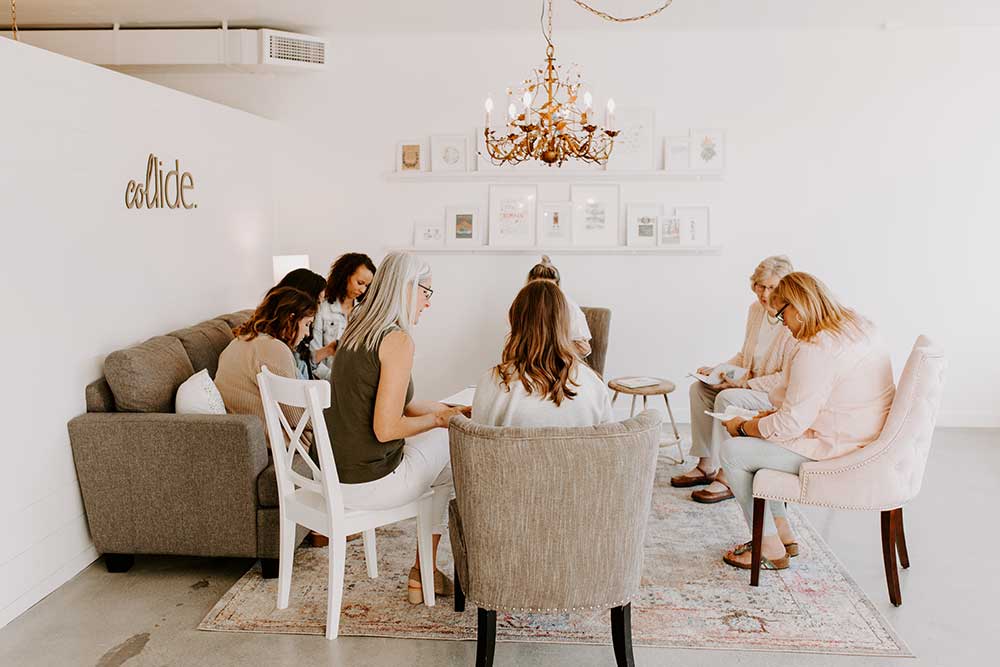 My phone rang the other day. It was my home phone. I never answer my home phone. Why do I even have a home phone?  I keep it in case I  were to ever fall off a ladder someday and my kids need to call 911 (Because I go on a lot of ladders. I never go on ladders.) But other than that, if you ever call me or a leave a message on that line, I will probably call you two months later because I forget I have a home phone. Anyways, this has nothing to do with what is on my heart to share. And yet, my phone rang.
I picked it up expecting to hear a recorded message about some great credit card offer or a political opinion call from someone zealously assuming I share their stance. But instead it was the voice of an older woman that I know, but not well. In the space between hello and more, I wondered how she got my number and what she might have wanted. She began to explain an experience she had at a woman's ministry day called Collide (check it out on facebook), that had meant so much to her. She said that for the first time in her life (and she is probably nearing 60) she realized what God meant when He said 'Confess your sins to one another and you will be healed.'
As she said this, it struck me that I have no idea what God meant when He said this. I  certainly have a lot of garbage and dirty laundry all over the place and boy do I need a lot more healing up in this mess. Her statement of realization beckoned a question within me. "What does it mean
that when we confess we are healed?" I was intrigued.
Therefore confess your sins to each other and pray for each other so that you may be healed. James 5:16
She said for the first time in her life as a Christian woman she was invited to share and be real about her story and wounds with other women. It was that day that her and another friend opened up to one another and shared what they were carrying. She said that moment changed things for her, "It's not that when you confess you are healed that instant," she said " but when you confess to one another, that is the beginning of healing."
Profound.
Simply profound.
This woman said she had been trying to get her story on paper for 20 years and now she finally felt freed up to do that. She said she opened up for the first time  with a friend about getting pregnant at a young age and her family encouraging her to give up her baby. The entire story unfolded leaving her with secrets and shame and longing for decades. She wondered what happened to her baby, she was left with deep pain but unable to speak about it. She felt guilty, dirty, promiscuous and silenced.
And then someone gave a woman permission to tell her story. And telling your story is the
beginning of healing.
Perhaps, if today you feel a bit broken, like I woke up, we can together begin telling our story, confessing to one another what we carry, and in that, we can experience God show up and begin mending those broken pieces back to whole. And perhaps we can be a people that invite others to do the same, and in that, we can be used by Him to stitch up the brokenness of others so that they can say "I am more who I am meant to be!"
For some reason, God wants us to open up deeply to one another and He promises to be faithful to the act of telling, of sharing, of confessing. He promises healing out of confession and prayer. Honest story telling actually begins to be the place God meets us in the midst of the most painful parts of who we are and rewrites our story with the touch of His healing Hands because of our vulnerably faithful mouths. Let us learn from this woman who called- to tell our story and to invite others to do the same and there our shame, secrets, pain, guilt and mess will begin to heal.
Where have you experienced the beginning of healing by openly sharing your story with another? What keeps us from vulnerably confessing to one another? Let's share our thoughts here….