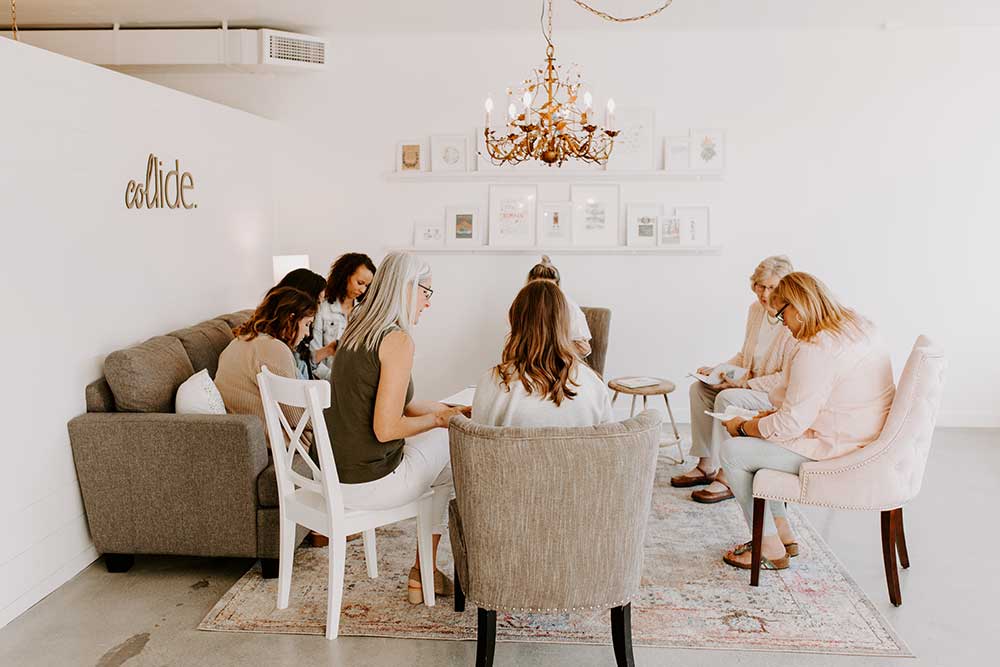 Every year we have a thankful tree. And on this tree we hang leaves that wear our words of gratitude. We share a meal with each other and with guests and every night in November these leaves are our prayers. Everyone gets a leaf in whatever hue or pattern they prefer and are encouraged to write down something they are thankful for. I have kept these leaves over the years and have been able to see the beautiful people that have graced our table, remembered the conversations we have had and have been able to look back at all we have been grateful for. The leave's words are often simple like "food and shelter" or general like, "friends and family." Sometimes, people specify like "Chipotle" and "my daughters dimple when she smiles" or "Bob Dylan".
The one thing we have in common when we come to the table, universally, is that we can all think of something to be thankful for, sometimes begrudgingly but even still. We are thankful to have another day, to breathe, thankful for eggplant in purple and butternut squash in orange, we are thankful for gorgeous walking trails, blue skies, for holding "their" hand, for music. When we share these things, it bonds us in a commonality to our universal experience of goodness. There are good things all around us in the midst of awful, ugly things. There is love in the midst of hatred and war and a refugee crisis. There is life in the midst of fall and a winter coming. There is meaningful conversation outside of the annoyong red coffee cup one. There is the flavor of saffron and basil and curry in the midst of tasting harsh realities. There is presence in the midst of loss. There is a realm unseen but felt all around us. We can show up at the table and find something we taste, touch, hear, smell, see or experience that we are profoundly glad we do.
One of the consistent experiences we have with this discipline of gratitude every fall is that kids express gratitude differently. Adults stare at the leaves trying to muster something up. Adults write one word. Adults think about something that will have their preferred outcome when they share it and thanks, then, becomes more about self than about something bigger. Kids write with wild abandon. Kids write all over the front and back of their leaves. Kids are thankful for silly things and spiritual things. Kids are thankful for water and pop. They are thankful for what we take for granted and for what we stopped enjoying. They are thankful for so many things that they run out of room to write them. Kids don't worry about seeming too thankful. Kids don't overthink gratitude. They don't feel the pressure to come up with something deep. It can be something as wacky as "farts" or as ordinary as "fuzzy blankets." Kids aren't trying to look cool, or mysterious or smug about life when giving thanks. They with unabashed abandon write like crazy about all the things they are thankful for including their dog's name, even if it's, Gizmo, and football, friends, family, God, water, root beer, candy, and even homework and tutors. When kids give thanks its almost like they can't stop.
I find it interesting that in our expression of thanks we have gotten to place as full fledged adult people that we can't seem too happy, too ecstatic, too grateful. That kind of place comes across as "over the top" or too "blessed" or naive and cheesy. And yet I keep reading the Psalms and the psalmists seem like they are more like children who in wild abandon start listing out all that they don't want to take for granted, all that they cannot control, all that they enjoy, all that is good. And without shame, they bust out in crazy, no rules, no limits, praise.
Just look at Psalm 138.
I thank you, Lord, with all my heart;
I sing praise to you before the gods.
I face your holy Temple, bow down, and praise your name because of your constant love and faithfulness, because you have shown that your name and your commands are supreme.
You answered me when I called to you; with your strength you strengthened me.
All the kings in the world will praise you, Lord, because they have heard your promises.
They will sing about what you have done and about your great glory.
Even though you are so high above, you care for the lowly, and the proud cannot hide from you.
When I am surrounded by troubles, you keep me safe.
You oppose my angry enemies and save me by your power.
You will do everything you have promised;
Lord, your love is eternal.
Complete the work that you have begun.
Imagine this guy at your Thanksgiving table. And be honest. A guy like this busts out and starts thanking God for His love and His faithfulness and His Supremacy and His power and His protection. And all the while, you and I would be snickering while thinking "Get on with it, already! It's time for mashed potatoes and gravy!" We would be judging this guy thinking "Does he realize not everyone feels so thankful?" We would be thinking he could have kept it simple and said "wife" or "Seahawks", but no he had to keep on going.
I just wonder what happened to us? When did we stop feeling so grateful that we no longer wanted to make a long list? At what point did we get shy, callused and ashamed of being full on grate-full? We are grate-kindoffull. Maybe what we should abandon is our pride, our reputation, our uptightness, our agendas, our fear of looking like a fool, our negative vibes, our disgruntledness, our dreams lost and given up, our complaints and our callused hearts.
Might I remind us that we are still kids and He is still our Father. May we this Thanksgiving with wild, abandon, make lists of what we are grateful for. 1 Thessalonians 5:18 says "Give thanks in all circumstances; for this is God's will for you in Christ Jesus."
Give thanks in all cirumstances. Give thanks when you are young and when you are old. Give thanks when you have a turkey on your table and when you have pepperoni pizza. Give thanks when grandma is there and when she is now, gone. Give thanks when there is family dysfunction at it's greatest height and when the peace this year surprises you. Give thanks when you can't see what you so desperately want to for its called faith. And give faith when what you have always wanted is sitting right in front of you. Give thanks when you have homework in middle school and when you still ahem work as a 4o year old. Give thanks when you have running water to shower and when the power goes out and you can't do anything except sit in the dark and do nothing with the very people you give thanks for. Give thanks. This is God's will, to be like children, thanking, thanking, thanking. It might just be that when you wildly abandon all the polite, expected, stuffy rules of an adult and go crazy in thanks that you will feel again like a child.
Happy Thanksgiving friends. I find myself thankful for early Christmas music, gingerbread lattes with the whip cream and nutmeg. I am thankful for belly laughter, my fireplace, lit candles, SNL skits, Adele's vocal chords, good books that make you feel like you lost an ol' friend when they come to an end. I am thankful for my kids who are the best gifts I have ever been given. I am thankful for flowers in all their brilliance, annoying labradoodles that look like stuffed animals, good friends that fit like a pair of sweats. I am thankful for Bieber's come back and that I can say that out loud and your judgement of me doesn't define me. I am thankful your not judging me right now. I am thankful for spiritual wisdom that resides in people I get to do life with and for hot water. I am thankful for friends who prank me and people who invest in my kids. I am thankful for my husband who is the very best cheerleader and who is the real deal, with a good heart. I am thankful for God's bounty of love that meets me at every corner and reminds me who He is so I can be reminded about who I am and who I am called to be. I could keep going, but I don't want my abandon to keep you from yours! Eat a lot of turkey and make long long lists… -Willow