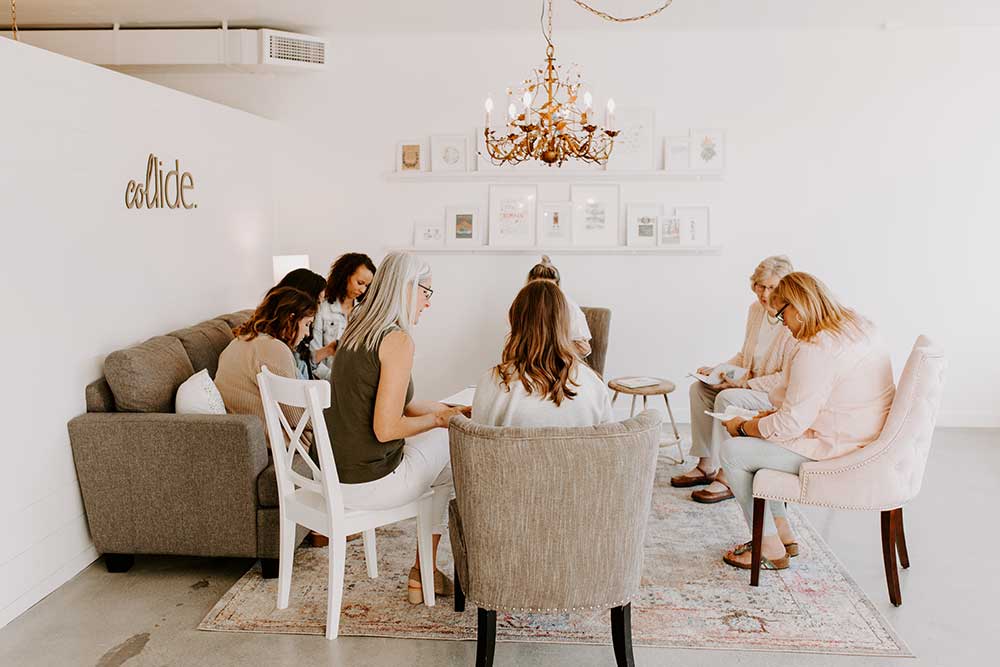 The Your Stories blogs are a place where women can bravely and authentically tell their story as it really is. We invite women to collide with Jesus and share how He is meeting them, transforming them and redeeming them. We hope this "your story" meets you in yours…
I found myself sitting in a beautiful meadow looking out at the tall green grass, and inhaling the aroma of the most succulent of wildflowers. The sun was gazing in through the trees. It was June. My dog was running circles in triumph around the trees and frolicing. I just sat. I was pondering…does God see me? Does He see my pain? How can someone so flawed be worthy of His love? I walked away from Him and church long ago, so how could I be forgiven for turning my back on Him, and be given grace?
I had grown up in the church and left at the age of 16. I had a hard heart, and a great deal of anger. I had been a member of a church since birth, but had never truly built a relationship with my savior. I didn't know how to talk to Him or truly be loved. I had decided that church and God was not going to help me.
Back to the meadow. The day before finding myself in this meadow I had been sexually assaulted. I had drank too much, stayed out too late, and rested my head at what I once thought to be a safe place. I was staying with some family members (a husband and wife) connected to an ex-boyfriend of mine. I was a college student finishing up a teaching internship, and did not have a great deal of money to be living on my own. I was very close to members of my ex's family and had felt for five years that they were also my family. Truthfully, I was closer to his family than my own.
I never thought that being assaulted would ever happen to me. I just assumed that it happened to others, but not me. I felt broken, alone, devastated, disgusted with myself, shameful, and dirty. No matter how many showers I took, I still felt the same. So many pieces of myself had been shattered and what I thought as my foundation was no longer there: friends, my ex's family, school, a home, safety, and self-confidence. I felt blamed by his family for causing unnecessary drama, and felt as if I was trash that just needed to be taken out and go away. I heard comments like "you should have been more safe and locked the door" or "if that had been my husband and you were staying in our house, he would have done the same thing." This is not uncommon to hear. I am going to take a "bird walk" for a moment… If you are a victim of sexual assault or domestic violence of any kind and you are reading this, please hear me. You are not alone and you are not to blame. Harm yourself no more.
In this meadow pondering, I knew I could not heal on my own. I needed help. I bowed my head, hit my knees, and surrendered. I surrendered all the broken pieces of myself in prayer with tears (and at times) screams. I knew that if Jesus could be at the garden of Gethsemane and take all of my pain upon Himself, He understood me. He could meet me in my pain and right where I was at. In the garden, Jesus said, "My soul is overwhelmed with sorrow to the point of death" (Mark 14:34). I knew He could handle my brokenness even when I could not. He was the only one who could hold this space for me, and give me light and life. He laid down his life so that I may have the gift of forgiveness. I was calling upon Him in that very moment and inviting Him to be with me.
"What, then, shall we say in response to these things? If God is for us, who can be against us? He who did not spare his own Son, but gave him up for us all – how will he not also, along with him, graciously give us all things? Who will bring any charge against those whom God has chosen? It is God who justifies" (Romans 8:31).
Over the course of the following year, I watched God unfold His plan, and bring me many blessings. I started to lean on my own family, and this brought us all closer together. I went to my first Collide. The theme was how God meets us in our pain. It was at a Collide event that I felt prompted to write letters of forgiveness to all those affected by the assault. After all, a marriage had been broken, and a family had also been hurt by what had happened. I brought friends and family together for a 5K run for Skagit County Domestic Violence and Sexual Assault. I met my current husband and bore my testimony, which in turn led him to find his own faith in God. Above all, I learned how to hold space for others in their time of pain and brokenness.
I never did get a response to my letters. I don't even know if they were even opened. However, I can say that sometimes forgiveness and closure do not have to involve the participation of the other party. We do not have control over the actions of others. We cannot control an outcome, but we can be brave and vulnerable for the sake of light. This takes knowing and believing in the power of the grace and forgiveness of our Savior. It can simply be a journey for you and Him. He can help you lift the weight that you carry and forgive. He can give you the strength to forgive yourself. He brings love and peace in all things.
John 14: 27 says, "Peace I leave with you; my peace I give you. I do not give to you as the world gives. Do not let your hearts be troubled and do not be afraid."
It is four years later, and I am sharing my story. I want to encourage others who may feel broken, lonely, and unworthy to collide with Jesus and bring your pain. Invite Him to be with you. You are worthy. You are beautifully broken, and with His love, grace, and the power of forgiveness, you are His masterpiece.
"Come to me, all you who are weary and burdened, and I will give you rest. Take my yoke upon you and learn from me, for I am gentle and humble in heart, and you will find rest for your souls. For my yoke is easy and my burden is light" (Matthew 11: 28-30).