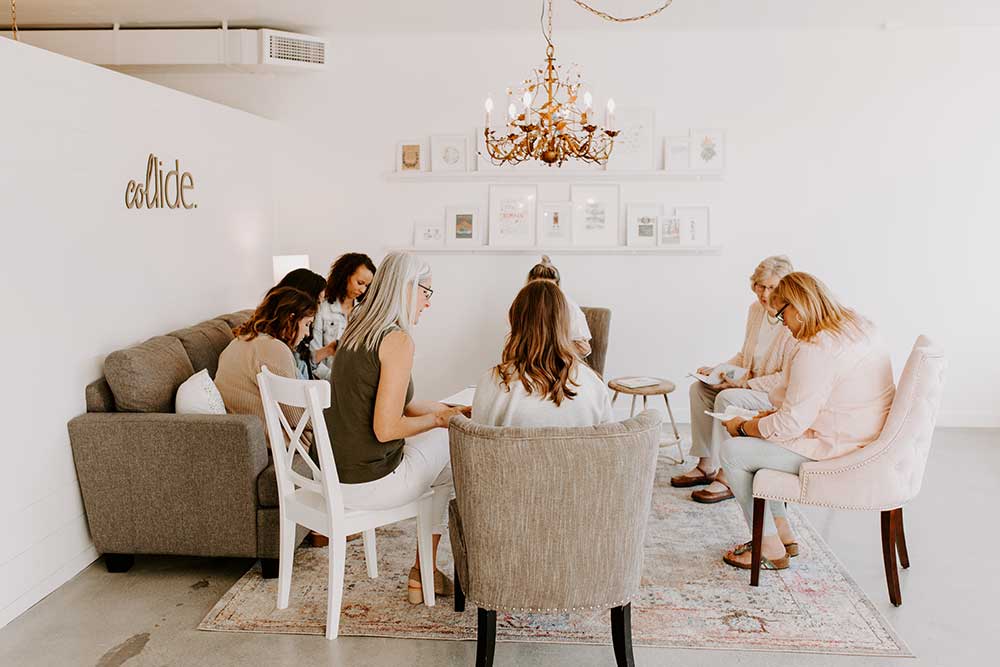 Our podcast is a way for women all over the country (and the world!) to collide with Jesus through encouraging stories, poignant interviews, and engaging messages from our host and Collide's Director, Willow Weston. Our hope is that the We Collide Podcast will help women to invite Jesus into their everyday routines by tuning into hear how He is colliding with women in this community and in the lives of people everywhere.
We are so thrilled to announce our latest project, the We Collide Podcast! As our tagline says, we are everyday chicks, running into God – in our pain, our mess, our brokenness, our joy, and our hopefulness. Collide began with a Bible study of 20 women studying about the way Jesus collided with people throughout the New Testament. We have grown into a ministry that serves women through messages and stories at events, encouragement and education through classes, healing through counseling and mentor relationships, leadership development through our volunteer program, and content through our self-published Bible studies we recently began to release.
Those Bible studies were our first foray into transferring our content into a medium that could travel all over the country (and the world!) in a way that would allow women to authentically collide with Jesus on their own time, with their own community, and at their own pace. It's been incredible to hear how God has used those books from our home base in the Pacific Northwest to the beaches of Florida to the apartments of New York City to the small groups of Texas.
As our ministry continues to grow, we've had a growing passion for making our content accessible to women wherever they're at – emotionally, spiritually, and physically. Due to popular request and our own big dreams, one of the ways we've decided to do that is through our very own podcast. We are so thrilled to have the ability to serve women with poignant interviews, panels and stories from our events, messages from our founder Willow Weston, and more.
In the very first episode, you'll hear a bit about our origin story and how God has moved and inspired us to help more and more women to collide with Jesus. Our second episode, we had the pleasure of interviewing the amazing Barbara Demorest, founder of an organization called Knitted Knockers that hand-knits breast prosthesis for breast cancer survivors. Barb's story is one of hope and redemption that will leave you feeling inspired. In our third episode, Collide's founder and director Willow Weston shares the message on her heart that derives from John chapter 6, where a small boy offers exactly what he has and Jesus uses it to do something incredible. We can't wait to hear how God uses this message to point out your gifts and the ways He wants to use them in big and beautiful ways.
We'd love to hear from YOU as well! Head on over to our social or comment below some topics you would like to hear us cover on the podcast. We can't wait to keep colliding with you in this brand new adventure of podcasting!