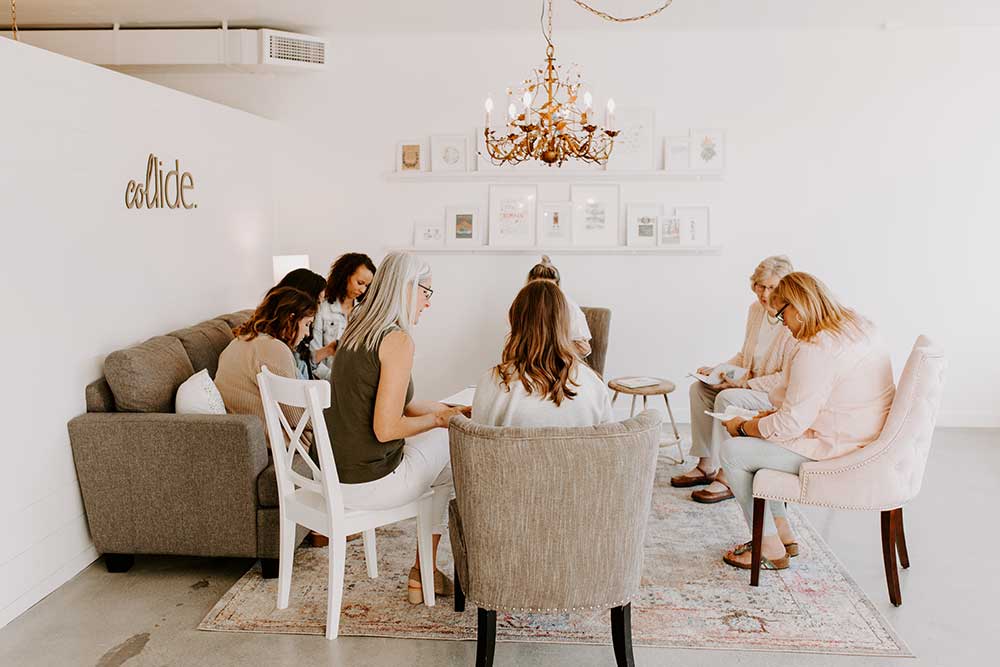 As I mentioned in my last post, God went on vacation….with our family. And not because we are ultra spiritual or because we make epic travel buddies. He goes on your vacations too. It is in the very simple moments of life that I often experience a profound God. On the first day of our trip we stopped in Seattle for the Russell Wilson Passing Academy. Our son, Aidan has a strong love of football and so we woke up early to get there on time. In Seattle fashion, it was a rainy day. We waited in a very long line of Seahawk fans to check in with some hot chicks who gave Aidan a camp shirt and off he ran to warm up. In ten more years, I think he would have gotten stuck at the check in table asking a myriad of really lame questions just to chat it up with the likes of these ladies. But he might be crushin' on professional football players way harder right about now because… in he ran!
The camp was like most sport camps, except Russell Wilson, the inspiring quarterback who led the Seahawks to the Super Bowl this year was supposed to show. The camp was, after all, named after him. I expected him to make a small showing, maybe wave, sign a few autographs and be done with it. But no, RDub was present the entire day. He led the warm ups, he talked to the kids, he posed for pictures, he threw passes and he dished out advice. Now, I sound like one of those crazy Christians who has a crush on some celebrity just because they claim the same faith as I do. But that's not it. This guy seriously showed up and spent time with the kids. It was over the top cool.
At one point when kids were going from one station to the next working on different aspects of the game, Aidan was at the passing station. He threw for a pass to a kid who ran long. As he drew his arm back to extend, I saw Russell Wilson walk up and watch Aidan pass. It was like time stood still. Aidan's hero was less than 10 feet away watching him throw the ball. Russell Wilson smiled wide and then walked right up to Aidan, rested both his hands on his shoulders and said something. I was watching this take place through the rainy windshield of my car so I couldn't wait for Aidan to get out of camp, so I could ask him what Russell said to the kids. Aidan calmly said, like it's everyday that an NFL quarterback pours wisdom into you, "Russell said, the key to being a quarterback is to throw the ball so people can catch it."
The key to being a good quarterback is throwing the ball so people can catch it. 
That might seem like obvious advice. Like, duh, RDub, you have to throw the ball so people catch it. But think about that. This guy has one job. All he has got to do is get that pigskin in the hands of those whose job it is to catch it and then they can run for the win. Here is a man who knows his job and knows the job of his teammates. He knows exactly what he needs to master so that other people can score!
I felt like God was there whispering to me in His great wisdom. Jeremiah 10:12 says God made the earth by his power; he founded the world by his wisdom and stretched out the heavens by his understanding. Daniel 2 says wisdom and power are God's. Colossians 2:3 says all the treasures of wisdom and knowledge are hidden in Christ.
So when I hear wisdom, wherever it comes from, I give God props because He founded wisdom. James 3:17 describes how you know if what you are hearing is God's wisdom: But the wisdom that comes from heaven is first of all pure; then peace-loving, considerate, submissive, full of mercy and good fruit, impartial and sincere. When we hear this kind of wisdom we can perk up and recognize that what we have heard is of God. He has something for us to gain, learn, realize, receive. When I hear wisdom, I feel like my Father is teaching me. He is shaping me. He is filling me. And He uses others to do it.
So next time you hear wisdom from another that is pure, peace loving, fruitful and so on, you know it too, begot with the One who is all wisdom, the One who shaped Einstein's cranium and who thought up Bill Gates and the apple before it was a fruit or a computer. So you can recognize this God who founded the Heavens and the Earth upon His wisdom and you can give Him a shout out.
We hear wisdom all the time, but it's a matter of whether or not we stop and soak it in and allow God to teach us in it's midst. So that's what I did when Aidan passed me the wisdom that was passed onto the kids. I heard wisdom and wondered what God had in it for me to learn. I started thinking about Russell's advice in terms of leadership.
The job of a good leader is to get the "ball" in the hands of those you lead so they can run for the win. There are people you manage, you coach, you parent, you teach, you employ, you serve, you care for, you minister to, you lead and they are made to run. They are made to score. They are made to win! They have a role on the "team" and all they need is the ball. Your job as "leader" is to get them the ball. A huge part of being a good leader is recognizing what your team needs to succeed and getting it in their hands. I started thinking about this as I lead people and God nudged me…"Willow, all you have to do is look at people on your team and figure out what you need to pass them so they can run for the win."
These words came as timely advice as our Collide team grows and grows and I have more responsibility on my shoulders. I have had sleepless nights thinking, "Oh God, how can I do this?" And God keeps giving me simple advice on how to do the job that is before me. And He will do that for you to in whatever He calls you to do and whoever He calls you to lead.
God leads like this all the time. God knew Moses needed a staff and a friend to have the confidence to make a way for His people. God knew Gideon needed a pep talk and some straight up courage to carry out a rescue mission. God knew Jonah needed a whale to get his attention so he would run in the right direction rather than the wrong one. God knew Mary needed an angel to be willing to carry Glory. Jesus knew Zacchaeus needed a lunch date to start living for his real purpose. Jesus knew Peter needed fish, an exorbitant amount of fish, to finally be freed up to believe he could do what God made Him to do. Jesus knew the woman at the well needed water to really live. God sees what people need to fulfill their potential and  become who they were made to become.
When God leads people, He recognizes what they need, to get where they need to go. And He wants us to do the same.
On our drive to Portland, I heard God in His great wisdom remind me that we all have the great ability to lead people on the field and off to run into the end zone. The key is getting into peoples' hands what they need to run,  score, and win. That is the job of a leader. So I share with you what God shared with me in His great wisdom.
Throw the people you lead confidence.  Throw them belief. Throw them direction. Throw them wisdom. Throw them resources. Throw them an "I believe in you." Throw them a permission slip to run so they finally feel freed up to sprint. With the people you lead, what do they need to win, succeed, run, and score? You just might have within your reach exactly what they need to do the touchdown dance.
Every receiver who has ever run for a touchdown had a great passer. Who can you pass to that is ready to run?