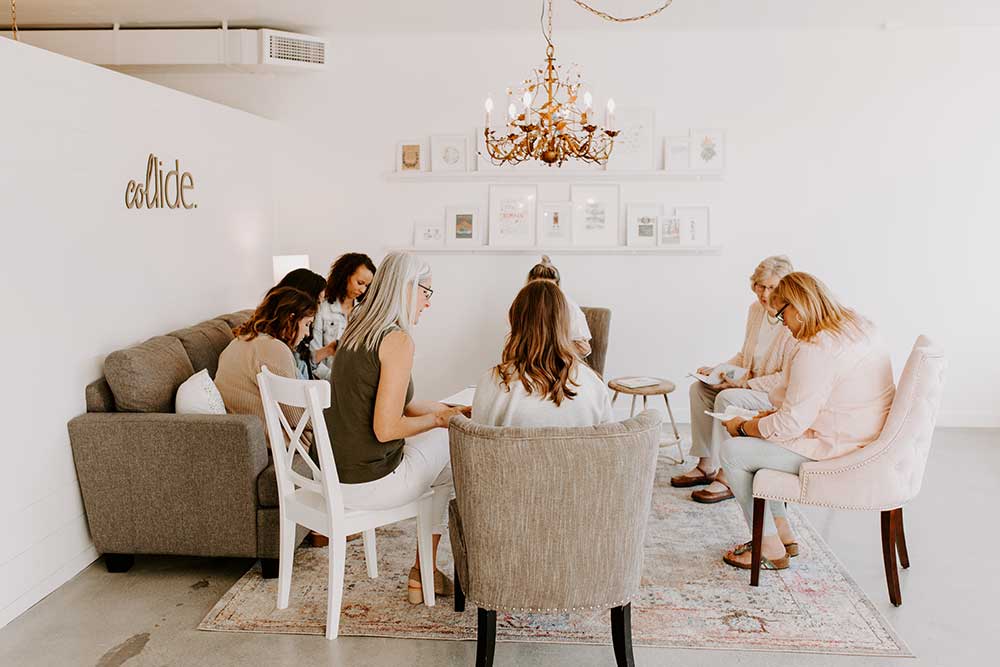 I love Celeste and what she brings to the Collide Team! I have seen her act and she is delightful! I have also seen her walk a journey and try to figure out what it looks like to follow Jesus. He calls us to Himself and He called her right smack dab in the middle of LA where she was pursuing an acting career and He wanted her to pursue Him! I love how she contrasts following Jesus to her experience in the acting world. You will enjoy her thoughts on faith as you engage yours! – Willow
Los Angeles is full of actors. FULL. I know this because I was one of them. And there's this weird phenomenon that happens where people pack up their lives, move to LA to be a star, and then take an infinite amount of classes, courses, and workshops. And they don't audition or actually act in anything. Nothing. They spend all their money, time and effort on training because there is this looming theory that you only get one chance with the casting director, so you'd better be amazing or you'll never get work again, EVER. So instead of taking the chance of potentially failing, people take classes until their money and hopes run out and then they move back to wherever they came from. I know that sounds kind of depressing. It is. My story didn't quite go like that, but that's a tale for a different time.
For me, becoming a Christian was a lot like moving to LA to be an actor. I left a place of comfort and familiarity, went somewhere with a new set of ideals, and found a community that had a totally different lingo. "Now what?" Well, I tried to fit in and figure out what was going on. So I read my Bible, or at least tried. I joined a small group. One of my Pandora stations had Christian songs. After a while, I felt like I was kind of getting the hang of it. On the outside things seemed to be falling into place. On the inside, I still felt like a fraud. I could talk the talk, but I didn't want to walk the walk. I wanted to learn what it meant to be like Jesus, but I wasn't ready to actually do it.
God's calling resonates differently for each person, but for me I feel strongly that God calls us to love people.
And loving people is really, really hard because we aren't actually supposed to pick and choose which 'people' we feel like loving. We are all called to be disciples and to help minister and shepherd God's people. And some of God's people aren't that easy to love. Some of them are mean. Some of them hold different values. Some of them make questionable life choices. Some of them are smelly. Some of them talk too loudly. Or cuss. Or have weird theology. Or no theology. Or a different god. Or no god. Some of them are annoying or needy or poor or rich or snooty or rude. But heck, I'm all of those things sometimes and I need love too.
For a while, I let myself off the hook from reaching out to these people. I told myself, "I'm just getting to know God myself", "I've never been to Bible college", "That's what pastors are for", "I'm still working through my own sin", "I'm busy", "I wouldn't know what to say", "I haven't even read the whole Bible", or "I don't really see myself as a missionary/disciple/shepherd/minister". I just wasn't ready. "Maybe later," I thought. I felt ill-equipped to do God's work; to reach out to the broken, needy, and wandering people in His Kingdom. Like the countless actors in LA, I gave myself the title but didn't do the work.
And like good actors, Christians need to be constantly learning. We need to consistently fill ourselves with God's truths. But we also need to get out of our comfort zone and actually do what we are learning. We need to walk the walk. And here's the good news. God is not a casting director. We don't get only one chance to impress him. God is not trying to cast us in the role of a cookie-cutter Christian. God calls us to carry out his work and to be the body of Christ here on earth. God asks us to use the gifts He gave us; we don't have to pretend to be an acting/dancing/singing triple threat. God is in our corner.
When I would walk into a room for an audition, I would feel utterly alone. It was up to me. Did I prepare enough? Would I remember my lines? Should I have worn this dress? But when I get out of my comfort zone and reach out to someone, God has the script. God will give grace to holes in my theology. God will feed me the lines to say. And sometimes he won't. Sometimes I sit across from someone, nervously sweating, face flushing, palms sweating and each word coming out of my mouth makes me sound like a heretic or a super judgmental, hypocritical, stereotypical Christian. I usually try to take the hint that God is telling me to just be quiet and listen. Even in those moments, God is there. Maybe the significance of that moment is that I showed up. Maybe if I wasn't there, that person would be shooting up, or considering suicide, or feeling lonely or unwanted or unheard.
Showing up should be easy. It isn't. The times I actually take advantage of a presented opportunity is probably 2/10. Maybe 1. Some days more like none. Sometimes a nap sounds much nicer than that awkward coffee date. Sometimes I'd rather binge watch Netflix than sit across from someone making weird life choices. Sometimes I'd rather have a sudden interest in my dashboard than smile at the homeless man standing on the corner.  But I know that the times I actually do it, the times I actually stick my neck out, it changes me. For a minute, my world stops being about me. My trust in God grows. My heart softens. For a moment, I see someone through Jesus-colored glasses.
God is not a casting director. My worth is not in my performance. I can try and fail time and time again, and still have God's grace. And with God's grace I'll keep showing up and trying to walk the walk. – Celeste
Join the pursuit. Register for our next event here.